Recent papers Two papers have recently been published that represent the first stage in telling the story of the Little Stringybark & Dobson Creek Project – a catchment-scale experiment to test whether new SCM technologies applied across an urban area encompassing the catchment of a small stream could adequately alter flow- and water-quality regimes to elicit change in in-stream ecological condition. Walsh C.J., Burns M.J., Fletcher T.D., Bos D.G., Kunapo J., Poelsma P., & Imberger, M.J. (2022) Linking stormwater control performance to stream ecosystem outcomes: incorporating a performance metric into effective imperviousness. PLOS Water. Available to read as an Open Access paper. Walsh, C. J., Imberger, M. J., Burns, M. J., Fletcher, T. D., & Bos, D. G. (2022). Dispersed Urban-Stormwater Control Improved Stream Water Quality in a Catchment-Scale Experiment. Earth and Space Science Open Archive Water Resources Research. Available to read as an Open Access paper.
Citizen Science Appointment Congratulations to Debbie Gonzalez Canada (WERG PhD Student), who was accepted as part of the "Citizen Science and Open Science Community of Practice". This is a working group that operates under the Global Citizen Science Partnership (GCSP), a network of Citizen Science associations – US, European and Australia CitSci associations included. It is funded by UNEP and UNESCO. More details on the GCSP can be found here.
Excellence award Congratulations to Ryan Burrows, who is the 2021 recipient of the Australian Freshwater Science Society (AFSS) Early Career Excellence Award. Ryan won this award for demonstrating "…research leadership with an international reputation for excellence in ecosystem ecology research, with a strong focus on applied research problems" and for engaging in "..activities that have increased the impact and uptake of research findings for government policy makers and private industry…". More details of the award can be found on the AFSS webpage.
Recent papers Russell (2021) Potential sediment supply fluxes associated with greenfield residential construction. Athropocene, 100300. This paper concluded that: "a conceptual model of changes in potential runoff and sediment supply over a series of construction phases suggests that potential sediment supply peaks with bare soil cover, but then remains high during subsequent road and house construction as imperviousness and drainage connection increase". The potential implications for management are that: "policies to reduce sediment loads to streams and receiving waters should place greater priority on improving construction erosion and sediment control in growth areas, and should target both development-scale and lot-scale activities."

Fischer et al (2021) Restored river-floodplain connectivity promotes woody plant establishment. Forest Ecology and Management, 493, 119264. This paper concluded that: "survival rates and temporal growth patterns differed between species according to variation in flood duration and soil moisture, illustrating the different hydrological requirements of the coexisting species". The potential management implications of this research are that: "variable flooding and drying patterns are essential to create recruitment niches for different riparian plant species and shows the importance of river-floodplain connectivity for providing adequate flooding regimes". It also demonstrates "…the suitability of two complementary restoration approaches – restoring hydrology and active revegetation – for promoting the regeneration of riparian forests".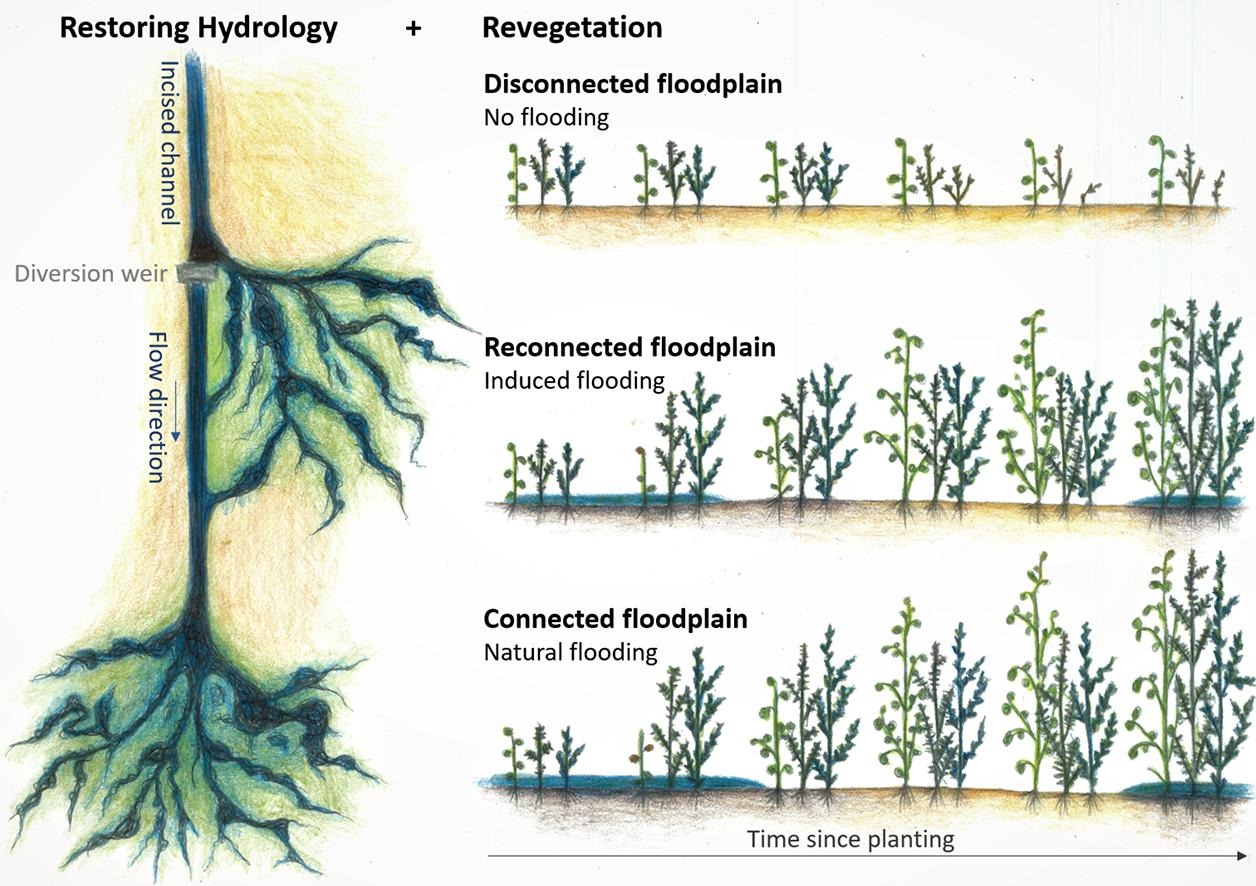 New PhD Opportunity
Are you interested in PhD research with the potential to discover new species? Do you want to help strategically protect biodiversity and monitor the health of Melbourne's waterways? Do you want to gain skills in fieldwork, molecular methods, spatial and ecological modelling and industry-focused research engagement and translation?

'Improving stream management using DNA barcodes and ecological modelling' is an exciting, University of Melbourne-Melbourne Water collaborative ARC Linkage project with direct management impact. We seek a Phd candidate to join our multidisciplinary team to work on bringing together DNA barcoding and metabarcoding of freshwater macroinvertebrates with spatially-explicit modelling.
The project will provide macroinvertebrate species data, methods and tools for Melbourne Water to better understand and monitor freshwater biodiversity patterns across Melbourne and improve capacity to plan, prioritise and evaluate management actions for improved stream health. Further details about the project and how to apply can be found here.
EPA Victoria Panel Discussion
New Research Notes
| | |
| --- | --- |
| Long term performance & maintenance of stormwater control measures | Predicting deer density & impact and non-lethal approaches to mitigation |
| | |
Research update : December 2020
New tool for wetland monitoring
A new online management support tool has been produced by Project B2: Constructed Wetlands. The project is aiming to develop indicators of constructed wetland treatment performance. The new app is designed for the project team (with representatives from both Melbourne Water and University staff) to engage with data as it is collected, to help guide when to take water quality samples and diagnose issues with sensors.

A sample of the data available for wetlands through the new Wetlandia App.
Ecology awards
WERG researchers Yung En Chee & Chris Walsh, along with Rhys Coleman & Sharyn RossRakesh(Melbourne Water) and Nick Bond (La Trobe University) have been recognised for their collaborative research, wining the ESA Ecological Impact Award. The award was in recognition of their development and application of an innovative approach to identifying waterway management priorities for Melbourne's Healthy Waterways Strategy 2018. Central to this were habitat suitability models for instream biota (aquatic macroinvertebrates, fish and platypus) that drew on >20 years of biological monitoring data. More details.
Yellingbo NCR research reports
Two new reports on research at the Yellingbo Nature Conservation Reserve have been produced. The first, concerning the vegetation monitoring program reports that vegetation condition has improved and that canopy heights and vegetation density have increased in parts in dieback-affected areas in Cockatoo Swamp. The second reports on the potential use of instream structures along the Cockatoo Creek, concluding that such structures would increase floodplain engagement in disconnected floodplain areas and have the potential to reduce sedimentation and flooding (and thus aid recovery) of dieback-affected areas over the longer-term. Email Joe Greet for a copy of the reports.

Dr Joe Greet checking water level monitoring equipment at the inlet location for the pumping trial at Yellingbo Nature Conservation Reserve.
Grant success
Congratulations to Christopher Walsh, Yung En Chee, Rhys Coleman (Melbourne Water) & Ary Hoffmann (Melbourne University, Biosciences) on their successful application to the ARC Linkage Projects 2020 (round 1). The project: "Improving stream management using ecological modelling and DNA barcodes" will compile a dataset of macroinvertebrate species using new DNA metabarcoding, modelling their distributions, and ranking biodiversity by reach. It will then develop molecular and quantitative spatial tools to provide data-driven, landscape-scale decision support for protecting and restoring streams: an urgent need for stream managers globally. The grant is $495,82o over 4 years.
Also, success in the Melbourne Sustainable Society Institute's 2020 seed funding. The project: "Protecting streams in our cities: understanding how 'general environmental duty' and 'state of knowledge' can help transform stormwater management" will investigate how better integration of legal mechanisms, scientific and socio-technical knowledge can drive transformative stormwater management that protects waterways whilst producing co-benefits such as climate resilient water supplies, flood mitigation, urban habitat, greening and cooling. This is an interdisciplinary project lead by Yung En Chee. More details.
Research update : April 2020
WERGing from home
Like so many of late, researchers from the Waterways Ecosystem Research Group (WERG) are quickly adapting to the new 'working-from-home' scenario. While they are unable to undertake any field work, the team is continuing to implement the waterway partnership's research projects by re-arranging tasks – using this time to compile and analyse data, conduct literature reviews and write reports. And while most researchers are getting by with a desk in the spare bedroom, others have had to be a little more prepared and inventive. This ranges from setting up mini-technology laboratories to continue work on the development of remote monitoring sensors….to transporting microscopes home to enable macro-invertebrate identification. It even includes converting a laundry to a temporary wet lab! So, while research outcomes in coming months will differ to what was originally expected for this time, the research projects are still advancing. We will continue to communicate progress over the coming weeks, but of course, if you want to talk to any of the project leaders about any of this, feel free to contact them.

Groundwater use
Field work at Wicks Reserve for Project B4:Groundwater is now complete, with the final validation campaign for sapflow data having been collected in early March. The preliminary results from this research are exciting, with quite strong evidence that the Wicks Reserve Bio-Infiltration enhances water availability to the downstream trees (relative to the upstream control trees), allowing them to continue transpiring at their maximum rate even during dry periods. This has important implications for urban water balance, urban microclimate and the use of infiltration. For further information you can contact: Tim Fletcher, Matt Burns, Fern Yong or Jasmin Thom
A boost for Street Trees research
Research project C1.1: Street Trees has enjoyed some recent grant success, being awarded $130K from Melton Shire Council for a 2-year research project on passive irrigation, as well as $105K through Melbourne Water's Incentives Scheme Grant – a collaboration with Moreland City Council and Cardinia Shire. Additionally, the project's leaders have been facilitating the establishment of a 'Passive Irrigation Network', which currently has ~70 members from 19 Local Governments and multiple state organisations. The purpose of the network is to promote knowledge sharing and to create opportunities to test some ambitious new designs for streetscapes. For more information, contact Chris Szota
New report on prioritizing cost-effective actions
A recently completed report documents the development and application of the habitat suitability models used to support multiple stages of the community co-developed Healthy Waterways Strategy 2018. Focusing on natural environmental and human-induced catchment influences on aquatic biodiversity, it details scenarios and management action prioritisation across the Port Phillip and Westernport region using the conservation planning software, Zonation. These tools integrated best-available data and knowledge to explore strategic concerns for long-term planning and to conduct region-wide scenario and prioritisation analyses. They also enabled outputs of plausible future scenarios to be summarised, mapped and shared with stakeholders to support deliberations that helped inform priority actions and target-setting in the Healthy Waterways Strategy 2018. Email Darren Bos for a copy of the report.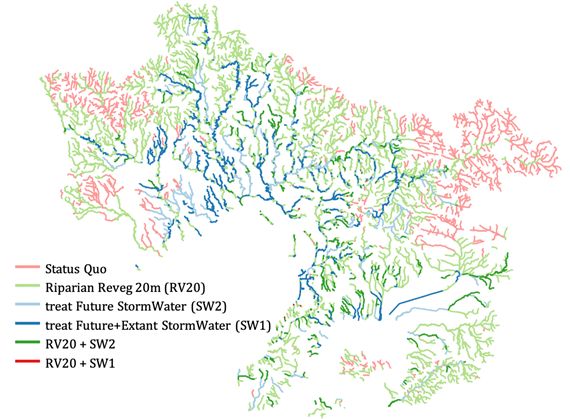 This map shows the 'optimal' action for all 8,233 reaches in the Melbourne Water region, which was used in the scenario and prioritisation analyses.
Research update : December 2019
New Network Stream Layer
A new stream network layer (V1.0) has been developed for the Port Phillip & Westernport Catchment. This new layer has a range of advantages, including: augmenting the existing stream line data to include small headwater streams missing from earlier stream data; standardising names of streams across the region, giving each stream a unique name and code; provide a unique meaningful code for each reach, linked to existing codes such as Melbourne Water's asset identifiers; and delineates a sub-catchment boundary derived from a 5-m digital elevation model for each reach. Work is now underway to incorporate this new data set into Melbourne Water mapping and information systems. In the meantime, you can start exploring the new layer (and download the manual) by visiting urbanstream.net.
Workshop: Stormwater management to protect streams
The Waterways Ecosystem Research Group recently hosted a workshop to discuss stormwater management to protect urban streams. The workshop adopted a systems thinking approach, exploring the concepts of leverage points and collective impact. The goal of the workshop was to work together to identify how to achieve the greatest impact in terms of stormwater management that truly protects streams and, hopefully, the best way forward to address them collectively. Participants were drawn from a wide range of disciplines and organisations to ensure the issue was considered from all angles. And the outcome of the workshop? To meet again, to discuss further this very complex issue.

Photos of the workshop particpants exploring the themes around stormwater management and identifying leverage points.
Geomorphic disturbance and channel change
A recent report prepared for research project A3: Channelisation provides valuable foundation information around channelisation in urban waterways. The report, titled "Predicting geomorphic disturbance and stream channel change in urban catchments" provides i) a summary of previous developments in the field of predictive channel morphology models, and ii) a review of current data, that outlines the context of the study area and relevant data sources and gaps. It's the first step in the project – that is aiming to develop a Model of River Physical Habitat (MoRPH) and resulting spatial layer. A copy of the report can be obtained by emailing Darren Bos
Awards season
The MWRPP and it's partners have featured in some of the recent awards programs coordinated by the water management industry. At the the Victorian Water Awards:
Geoff Vietz (as Streamology Pty Ltd) won the Research and Innovation Award for his Urban Streamflow Impact Assessment (USIA)' project, a collaboration with CT Environmental, & Sydney Water.
Chris Szota was part of the team (collaborating with Melton City Council and Alluvium Consulting) for the project Innovation in Passive Street Tree Irrigation for Large Scale Implementation in the City of Melton, which won the 'People's Choice Award'. ​
At the River Basin Management Society Awards: 
the MWRPP won the award for Building Knowledge in Waterway Management.
MWRPP staff and projects also placed as finalists for two other categories, including Daniel Zhu in the category of Advancing Waterway Management Through Graduate Research, for his project Advancing waterway management through smart real-time control technology; and Project A1: Spatial prioritization of management action for biodiversity outcomes in streams and wetlands in the category of Innovation in Waterway Management.
Research update : June 2019
The WERG descends on Novatech Conference
Eight members of the Waterways Ecosystem Research Group (WERG) are travelling to Lyon (France) to participate in the 10th edition of the Novatech Conference (1-5 July). Novatech is an internationally recognised event that promotes strategies and solutions for integrated and sustainable water management in the city. Members of the WERG will deliver (or co-present) 5 oral and 3 poster presentations relating to the research projects of the Waterways Research Partnership. WERG researchers will also lead the one day workshop: Urban Water Monitoring, where they will share their experience (and seek advice) on topics like: the use of thermal cameras for looking at groundwater fluxes; building weirs to measure flows in small open waterways and the best ways to measure flow in steeply graded pipes.
Wetland Monitoring site selection complete
Project B3: Constructed Wetlands has completed a critical foundation step. After a huge effort to review and assess the 'as-constructed' drawings for 77 wetlands, 26 sites have now been chosen for this monitoring study. The next phase of the project is to purchase and deploy water level sensors at all 26 sites. The project involves a strong collaboration with A3P, who are currently preparing a literature review: "Stormwater wetland performance indicators: a review of current and emerging methods and techniques". At its conclusion, Project B3: Constructed Wetlands hopes to develop indicators of wetland treatment performance. Further details on this projects can be found under Research Projects/Active. Any Melbourne Water employee interested in participating in this project is encouraged to contact either Rachael Bathgate or Rhys Coleman.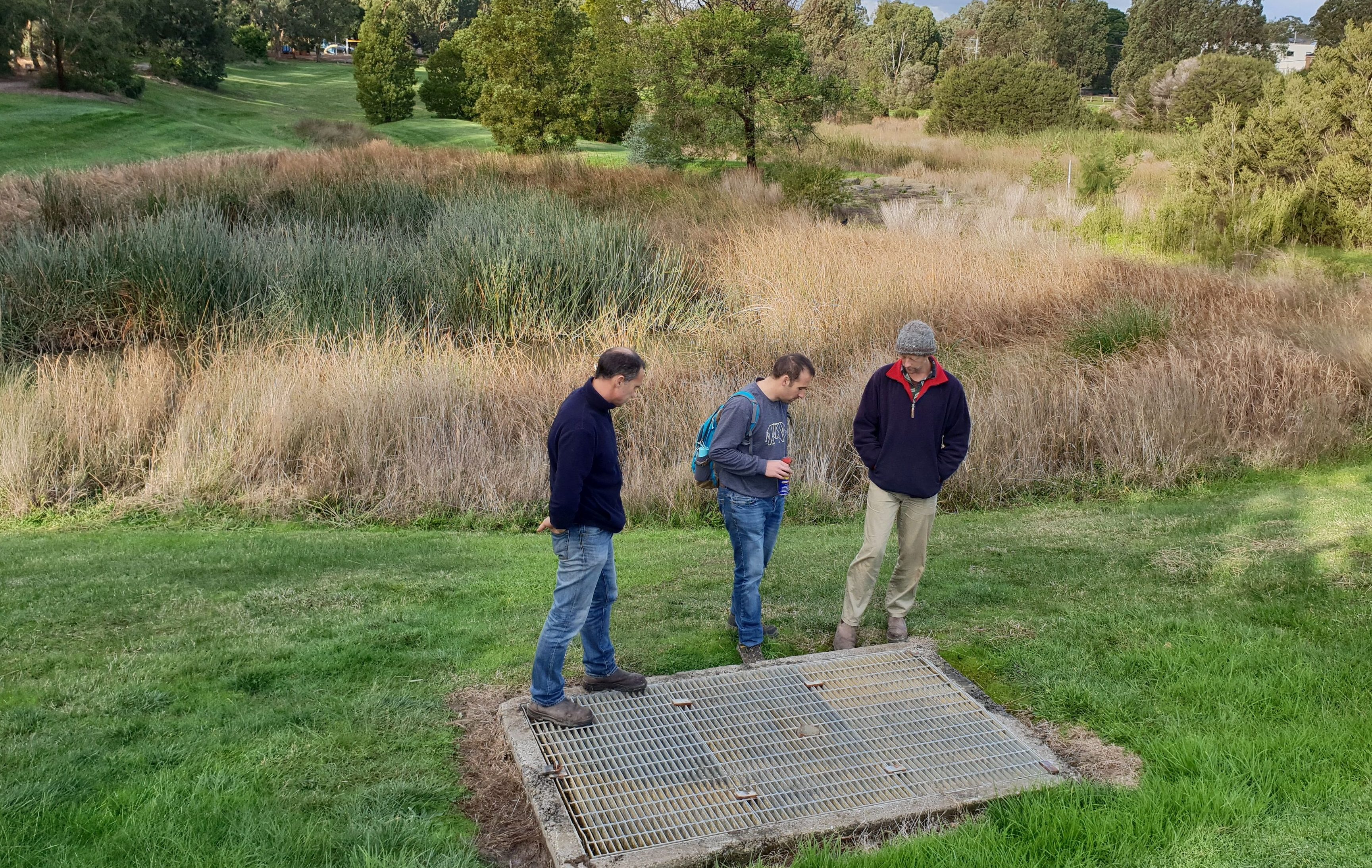 Researchers from the WERG investigate an outlet pit at the Fulton Road Wetland, discussing the best location for logging equipment.
Long term protection for Little Stringybark Creek.
The Environmental Significance Overlay (ESO) for the catchment of Little Stringybark Creek is now a permanent planning control, with the corresponding planning scheme amendment gazetted in May. The process to have this protection made permanant has been a long and involved, starting with a pilot program in 2013. The ESO ensures that any new development in the catchment, greater than 10m2, meets a minimum standard of stormwater control. Congratulations to all those involved in achieving this goal.
Research update : January 2019
Waterway Physical Form Training
Staff from Melbourne Water recently participated in a two day training event to learn more about the physical form of waterways, and how to protect, manage and restore for stream health. The two-day program was coordinated by the MWRPP and included a mix of theory, practical exercises and a full day in the field. The course was well received, with over 20 participants, all of whom reported they learnt a lot that was directly applicable to their roles in Melbourne Water. It is likely that the course will be run again soon, so contact Rachael Bathgate or Darren Bos to register your interest.

New Research Program
What are the critical assumptions between Melbourne Water interventions and environmental condition? How do sediments move within a catchment? How well are privately owned rainwater tanks managed? These questions, along with many others, will form the basis for a suite of new research projects for the waterway-research partnership. Melbourne Water and The University of Melbourne have agreed to a collaborative research program for 2018/19, with 17 projects receiving joint funding from both organisations (approx. $4m). The full list of projects can be found under Research Projects/Active, along with a summary of their research directions and proposed outcomes. Any Melbourne Water employee interested in participating in a research project(s) are encouraged to contact either Rachael Bathgate or Rhys Coleman.
New Research Note
How does the local community in Sunbury interact with and perceive local waterways in the present and potential form? This was a principle question of research in the latest Research Note produced by the partnership. This two-page summary (found here) highlights the wide range of value attributes identified by the community and possible discrepancies between their perceptions and those of management agencies.
Research update : June 2018
Pumping works @ Yellingbo
Following successful trials early this year, a full season of environmental pumping is now planned at Yellingbo Nature Reserve in Jan-Apr 2019. The pumping will help researchers deduce how changes in the local hydrology have impacted on Threatened EVCs. More details on the project can be found in the project summary or the latest project update.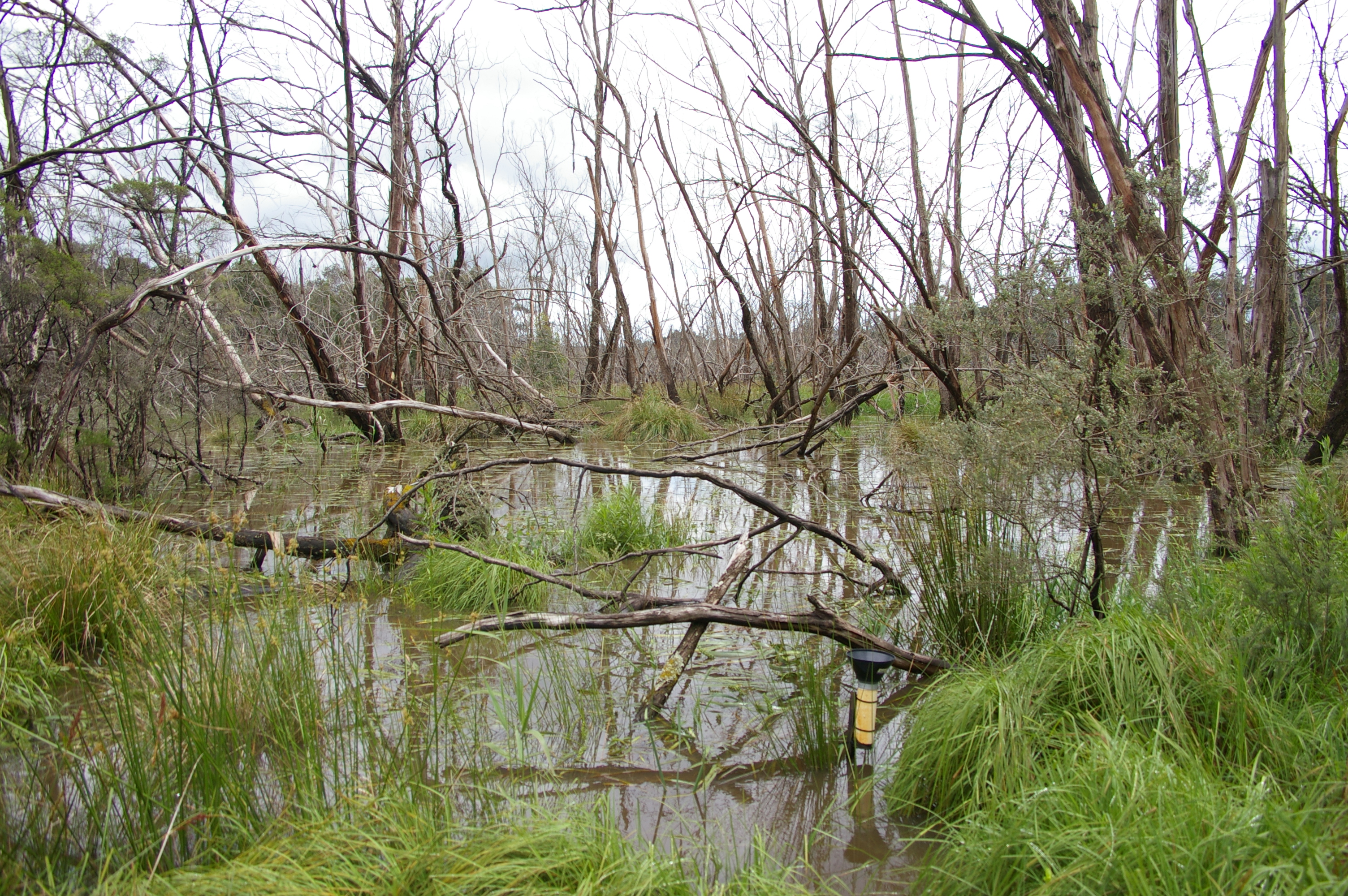 Partnership renewed
We are excited to report that the The University of Melbourne and Melbourne Water have signed another five-year Partnership agreement. This will see our collaborative research continue until June 2023. Work is well underway to develop a new suite of research projects to be delivered over the next five years. Feedback is now being sought on a shortlist of 23 research ideas that respond to Melbourne Water's Key Research Areas. Contact Rhys Coleman or Rachael Bathgate if you'd like to see and/or comment on the list.
Engagement awards for the MWRPP and Little Stringybark Creek Project
The MWRPP has been acknowledged for its collaboration with industry, winning the University of Melbourne's "Award for Excellence in Industry-Engaged Research". The Little Stringybark Creek Project was also acknowledged, winning the "Award for Excellence in Engagement – Research". The prize money from both awards will be used to support additional research through the partnership.